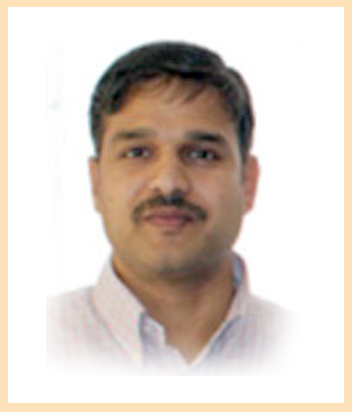 Dr. Ramancharla Pradeep Kumar
Chief Mentor & Guide
Professor of Civil Engineering & Head, Earthquake Engineering Research Centre, IIIT Hyderabad.

Education:
Doctor of Philosophy, Earthquake Engineering (2001)
University of Tokyo, Tokyo, Japan
Master of Technology, Structural Engineering (1997)
Indian Institute of Technology, Kanpur, India
Bachelor of Engineering, Civil Engineering (1995)
Vasavi College of Engineering (Osmania University), Hyderabad, India
Diploma in Civil Engineering (1992)
Quli Qutub shah Govt. Polytechnic, Hyderabad, India
Dr. Ramancharla Pradeep Kumar worked in L&T-ECC for about a year (1997-98) and went to Tokyo, Japan for pursuing Ph.D. After receiving degree, he worked as a post-doctoral research fellow for one year(2001-02). He joined IIIT Hyderabad in September 2002 and started Earthquake Engineering Research Centre (EERC). He was also instrumental in initiating graduate program on Computer Aided Structural Engineering (CASE) at IIIT Hyderabad in 2002 and 5-year Dual Degree program in Building Science & Engineering in 2013. Dr. Ramancharla's research interests are; i) Numerical Modeling of tectonic plates and faults ii) Ground Motion Simulation on faults, iii) non-linear structural response & damage estimation, iv) health diagnosis of historical and critical structures, v) sustainable construction technologies (with local & natural materials) and v) capacity building on earthquake disaster safety. In addition to the above, Dr. Ramancharla has keen interest in research on humanities and human values.
Dr. Ramancharla is leading an active research group of around 35 people. He is presently supervising 12 Ph.D/MS by Research students. Dr. Ramancharla published around 180 papers in journals and conferences. He visited Bhuj, Gujarat for conducting reconnaissance survey after 26th January 2001 Bhuj Earthquake. He also visited tsunami affected areas of Andhra Pradesh after 24 Dec 2004. He is a member of few committees at state level and also at national level. He is a member of Post Earthquake Reconnaissance Team (PERT) of NDMA, GoI. As a member of expert committee of NDMA he contributed in the preparation of National Disaster Management Policy and Guidelines for Earthquakes and Tsunamis. He also contributed in the preparation of policy for restructuring of Fire and Emergency Services Department, Govt of AP. He is also a member of expert committees on Disaster Mitigation of Cyclones and Urban Floods. He is currently a BIS panel member of IS 456 & IS 1343 (CED2), Earthquake Engineering Sectional Committee (CED39) and also a member of National Building Code of India (CED 46:P16).
Dr. Ramancharla is strong proponent of Human Values. He has been spear heading the activity of human values in IIIT-H since 2005. He has contributed in a major way in introducing an essential course on Human Values to UG students in over 1200 colleges in Telangana and Andhra Pradesh states. Till now he has conducted over 50 workshops of 3-8 days duration and delivered over 100 guest lectures on Human Values. His dream is to take Value Education to all people in the states of Telangana & Andhra Pradesh.
Awards and recognitions

Young Scientist Award from ICI, 2011
Commendation certificate from Indian Embassy, Japan, 2001
Monbusho Fellowship for studies in Japan, 1998
University topper in Civil Engineering, 1995
Topper at IIT Kanpur (1997), topper in Diploma (1992), topper in School (1988)
Current Affiliations at IIIT Hyderabad:
Head, Earthquake Engineering Research Centre
Co-ordinator, Civil Engineering PG Programs
Co-ordinator, Human Values Cell
Head, Engineering Technology & Innovation Centre
Member, Master Plan & Building Works Committee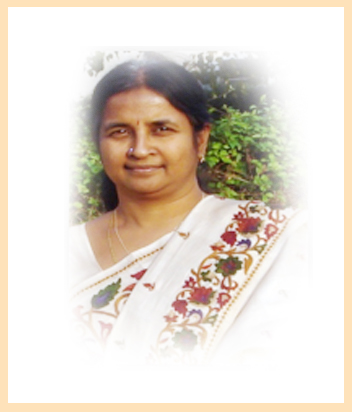 Dr. Aparna Palle
HOD, H&M GNITS
She is a certified trainer for Business English Certificate [BEC] and International English Language Testing System [IELTS].
Has enriching experience in teaching of English for Engineering Graduates and has extensively promoted and conducted various Conferences, Seminars, Workshops, Guest Lectures on English Language Teaching [ELT] in association with English Language Teachers Association of India [ELT@I], British Council, Regional English Language Office [RELO], Cambridge University Press [CUP] for Professional Development among English teachers. She is a certified trainer for Business English Certificate [BEC] and International English Language Testing System [IELTS]. Dr.Aparna has been a strong support in strengthening the Vision and Mission of Read India Celebrations [RIC].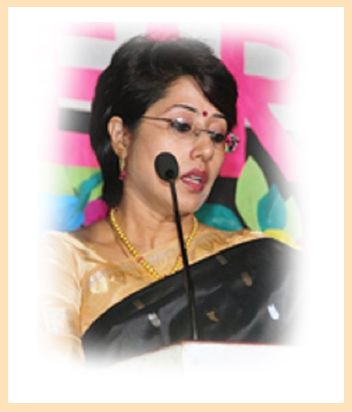 Ms. Kasturi Chatterjee
Executive Consultant.
Principal, Gitanjali Devashray, Secunderabad
Seasoned educationist with 23 years of rich teaching experience, with 5 yrs. of exposure in administration. Key competency also includes expertise in developing education procedures, training programmes and operational policies to align with changing educational / academic needs.
Academic Qualification:

MA English from MGU,
Graduation from Kolkata University with English as majors.
Professional Qualification:

B Ed. from Kolkata University.
Completed a certification course in Guidance and counselling for school principals.
Completed a certification programme in Tourism from IAM Kolkata.
Professional Experience:

Working as Principal for Gitanjali Devashray, Secunderabad (under CBSE curriculum), from June'12.
Worked with St. Andrews High School, Hyderabad, as a Senior Teacher & HOD (English) for CBSE and SSC stream, teaching senior classes from June 2007 to April 2012.
Worked with NEXT EDUCATION, Hyderabad as a content developer for English from 2007 to 2010.
Worked as a Senior Teacher in English, at Haryana Vidyamandir, Kolkata from June 1994 – May 2007
Worked with "Hope Academy" Kolkata, as a Trained Graduate Teacher in English from 1993 – 1994.
Worked at Thai Airways as tour consultant from 1991-1992.
Awards and Achievements: -

Received letter of Appreciation, from Human Resource Development Minister, Govt. of India for achieving cent percent CGPA 10 in AISSE 2013 – 14.
Awarded the "IDEAL PRINCIPAL AWARD" by the Akhil Bharatiya Nagarik Vikas Kendra, Aurangabad, Maharashtra.
Received Letter of Appreciation from "National Olympiad Foundation" for the achievement of students of our school in the 12th National Cyber Olympiad, and continuous support to the foundation for popularizing of Science, Maths, IT and English. In Nov'12, Jan'13, Feb'13 and March'13.
Certified as a co resource person of "English Language Teaching Workshop", for teachers of South Point Senior School in Kolkata on the June'11
Has been awarded the most enthusiastic teacher of the school in 2002-03, 2004-05.
Has been working as an evaluator (English) for the C.B.S.E Board exams till date.
Has been appreciated for guiding secondary students achieve distinction in the Board Exams.
Participated in various Seminars and workshops.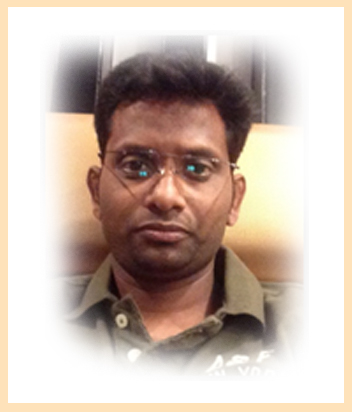 Dheeraj Ananthoj
Patron & Guide
He is one of the leading technocrats in swimming pool industry in south India. He is the proprietor of PRAGATI POOLS ( www.pragatipools.com ) involved in swimming pool projects across India.

Mr. Dheeraj Ananthoj is a graduate civil engineer from Osmania University with more than 20 years of niche experience in Swimming pool consulting, construction and water treatment industry. He is one of the leading technocrats in swimming pool industry in south India. He is the proprietor of PRAGATI POOLS ( www.pragatipools.com ) involved in swimming pool projects across India.

Email: d_ananthoj@yahoo.com
Bhaskar Kannoju
Executive Consultant
CEO & Founder- Adepto GeoInformatics
Mr. Bhaskar Kannoju, an M.Tech degree holder from JNTU Hyderabad,has more than 15 years of rich experience in Sales and Marketing in Geospatial and Scientific Research Organizations. His innovative thinking and sincere efforts brings sole exclusive Authorized distribution of Tecplot software products for CFD post processing analysis &Innovyze software products for Water Utility and wet infrastructure development applications in India. He has travelled across the country for several times, having prominent presence at Government, Defense, Space and R&D Labs etc., and he is overall head of all day-to-day activities in India and Global Operations.

Email: bhaskar.kannoju@adeptogeoit.com
www.adeptogeoit.com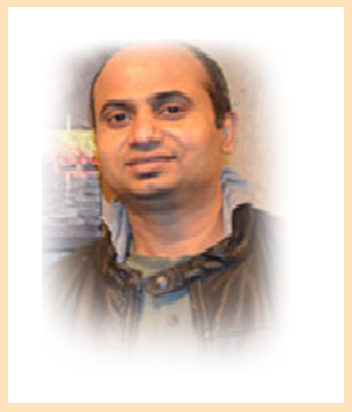 Naresh Mirkhelkar
Adviser & Content Cogitator
Technology Lead, Home Depot, Atlanta
Mr. Naresh Mirkhelkar is a civil engineer by education but in IT by Profession. He has around 20 years of experience in Information Technology out of which more than half is in the USA working for various high profile clients. His passion is mobile technology.

Here is what he has to say on what fascinates him about the IT industry - "Biggest advantage I see with Information & Technology industry is that it always keeps one a student, because it continues to evolve and redefine itself. Never satiates the thirst. I believe in remaining hungry and discontent, else I fear of slipping into complacence.

If I am not coding (or trying to code), rest assured either I am pursuing my long cherished hobby of Astronomy or playing ping pong.

Hope to visit Mauna Kea Observatory some day !
website/Blog: http://whiffoftechnology.blogspot.com
Email:mirkhelkar@gmail.com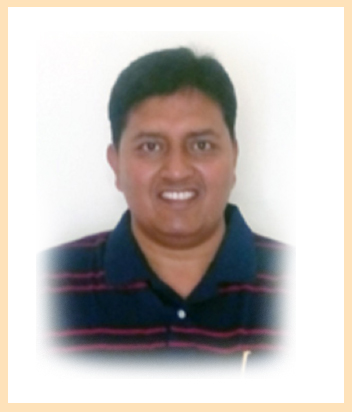 Chakravarthy Samudrala
Executive Consultant
Chakravarthy Samudrala is a Post Graduate in MA Public and Personal Management and MBA, having 20 years of work experience in managing corporate services for MNC's , extensive experience in Facility Management and Administrative services, Liaison with Government Authorities, Vendor Management, Lease & Work Space Management, Customer Relationship Building.

Email : chakravarthy.samudrala@gmail.com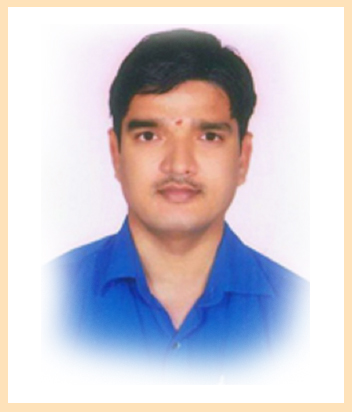 R. Prashanth Kumar
Assistant Professor MVSR Engineering College
Completed M.Tech in Structural Engineering in 2001 from JNTUH, Working as Assistant Professor from past 15 years in MVSR Engineering College.

Email: prashanthkumarsharp@gmail.com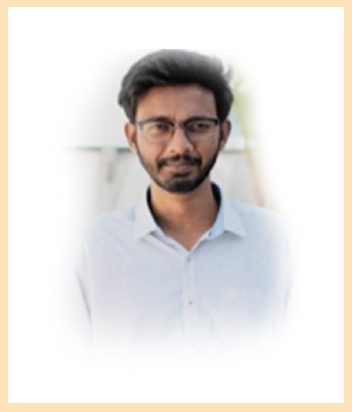 Mayank Singh Devak
Public Policy Specialist
Mayank is a Social Scientist turned Public Policy Professional from Tata Institute of Social Sciences. He has a diverse grass-root level work experience with government departments, leading think tanks and young entrepreneurs of this nation. He has traveled all across the country and had the privilege to interact with individuals of different socio-economic backgrounds. His interests are: travelling, reading and cooking.

Email: mayanksinghd@gmail.com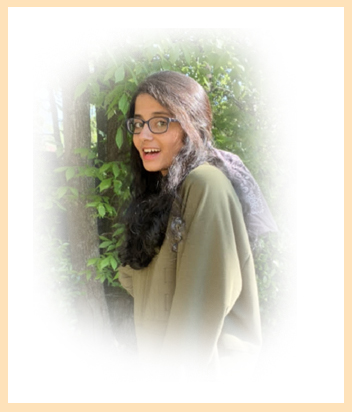 Nishka Mirkhelkar
Social Media Strategy Consultant
Nishka is currently a junior in high school and lives in Atlanta, Georgia, USA. She has many interests such as classical indian dance, violin and martial arts.
Raghuram Ananthoj
Founder
Raghu (Raghuram Ananthoj) has a bachelor's degree in civil engineering from Osmania University. He is currently working in Dell computers as an IT PM, based out of Hyderabad. He has worked with people of more than 50 different cultures around the world in his 20 years of professional experience spanning 10 countries (India, Hong Kong, China, Dubai, Bahrain, Egypt, Germany, France, United Kingdom and United States) mostly in the space of information technology. Raghu enjoys sports and played cricket at junior state level, south-zone and all India universities during his college days. He was also part of Hyderabad state Ranji trophy team.

His interests and hobbies include yoga, music, reading books, cricket, soccer & travel.

Email: ananthoj1974@gmail.com